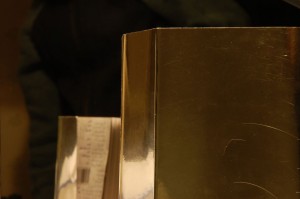 Nina Power skriver i kapitlet "Theory of Dance" i nya The Swedish Dance History:
"Dancers intimidate normal, unhealthy people. Their superior physique and general good health, despite their often casual attitude to smoking and drinking, is infuriating. Non-dance people like to pretend that dance people cannot read books, despite evidence to the contrary, because we have nothing else to bolster our sluggish and inwardly weeping egos."
Det finns, i TSDH, en hel del bevis för Powers argument rörande böckerna, även om en del av de runt 1087 sidorna inte har författats av dansare eller koreografer. En brokig, engagerad och framvirvlande skrift. Som ankare ned till den filosofiska historien återfinns referenser till främst Deleuze, Marx och Nietzsche (över lag har dock teori från frankrike övertaget). Subjektet ifrågasatt, inlemmat i en materialistisk värld och i process att omforma sig själv. Allt i dans. Det är kanske så nära det går att komma en möjlig sammanfattning. Några rekommendationer: Ina Sladic, "Sorry, But I Really Don't" (203-5), Aaron Schuster, "The Cosmonaut of the Erotic Future" (240-254), Valeria Graziano, "Really Trying to Understand Dispositif and Subjectivation, On My Way to an Occupation Party" (856-870).